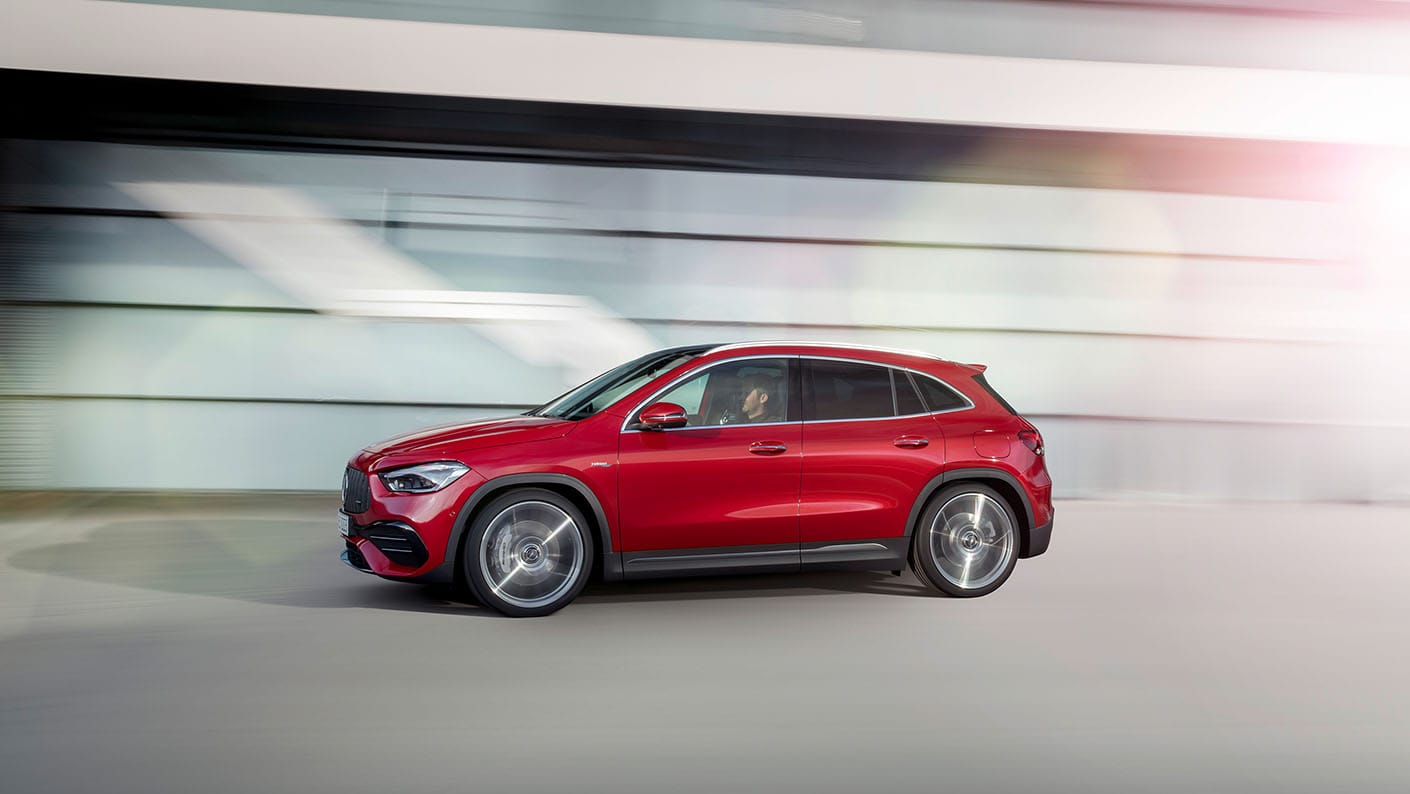 Make a bold statement when you purchase or lease the new 2021 Mercedes-Benz GLA 250 from our dealership. When you shop for a new Mercedes-Benz car here at Fields Motorcars, you'll discover a new standard of luxury and driving technology. Our friendly team will make sure you enjoy a memorable experience as you shop for your exciting new luxury SUV.  
2021 Mercedes-Benz GLA 250 
Designed with striking exterior details, the 2021 Mercedes-Benz GLA demands attention on the road. The body features a chic, streamlined shape while the front end sports an elegant grille and sleek headlamps. Inside the cabin, you'll be greeted by a stylish and modern layout, complete with luxurious leather seating and crisp metal accents.  
The spacious interior of this compact luxury SUV boasts room for up to five passengers, and you can bring lots of supplies with you as well. Thanks to the standard fold-down seats, you can easily configure the storage area to meet your needs.  
The 2021 Mercedes-Benz is built to optimize performance and casual driving no matter where you go. You can handle corners with confidence while still enjoying a smooth ride. Plus, this sporty and luxurious SUV is also designed to help you efficiently sip fuel with the ECO Start/Stop System, which shuts the car off when idling.  
Under the hood, you'll find a 2.0L turbocharged I4 engine, which creates a sporty 221 horsepower and 258 lb-ft of torque.  
Safety and Special Features 
Sitting behind the wheel of the 2021 Mercedes-Benz GLA 250 will allow you to experience industry-leading driving technology. Control a wide variety of infotainment and interior functions using the intuitive Mercedes-Benz User Experience System (MBUX®).  
In addition to having access to voice-command functionality with MBUX®, this system also learns your preferences and automatically optimizes your driving experience as soon as you sit behind the wheel.  
There are also plenty of reasons to feel safe in the 2021 Mercedes-Benz GLA 250 thanks to driver-assist features like blind-spot assist and available features like adaptive cruise control. 
Buying a 2021 Mercedes-Benz GLA 250  
Here at our Lakeland Mercedes-Benz dealership, our team is dedicated to your satisfaction. Whether you have questions about Mercedes-Benz service, our inventory, or financing, we're always here to help you out. Visit our dealership today to test drive your next luxury car!