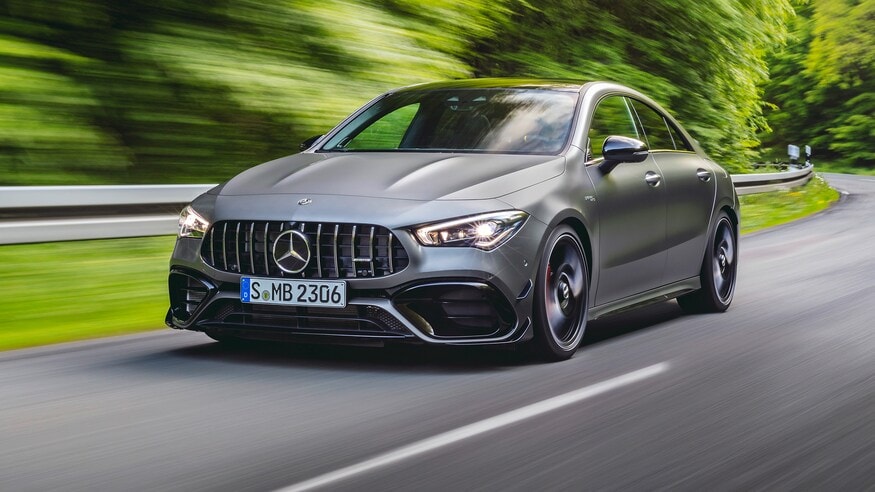 Those that follow the Mercedes-Benz brand closely know that teasers are just part of the process in terms of waiting for sportier models like the 2020 Mercedes-AMG® CLA 45 sports sedan. But eventually, those teasers have to turn into a real automobile that people can actually buy, and we finally have come to the point where this specific sports sedan has been revealed in full. Our first reaction here at Fields Motorcars is that it was worth the wait.
While the standard Mercedes-Benz CLA models are excellent all on their own, anything with the AMG® badge is going to be even more fun. That is the case with the aforementioned 2020 Mercedes-AMG® CLA 45, especially when it comes to what lies under the hood. The drivetrain includes a trick all-wheel-drive system and a 2.0-liter four-cylinder engine that can put out 383 horsepower. A more powerful engine that reaches 416 hp is expected sometime down the road, too, though that engine has not officially been announced yet.
What does all this power do? The car can jump from zero-to-60 mph in just four seconds. It also tops out at 155 mph, though an optional Driver's Package can bump that top number to an impressive 168 mph.
All of this is made possible not only through the powerful engine, but also an eight-speed dual-clutch automatic transmission and a special all-wheel drive system that uses two clutches for each rear axle. In other words, this is a vehicle that is meant to be driven hard, and we know there are Lakeland Mercedes-Benz enthusiasts who can't wait to get their hands on it to do just that.
If you are interested in having a closer look at the 2020 Mercedes-AMG® CLA 45 when it arrives here at Fields Motorcars, we will be happy to host for you a test drive of this impressive, speedy automobile.