The All-New 2023 Mercedes-AMG EQE Sedan
Schedule Your Mercedes-Benz AMG EQE Order Consultation
* Indicates a required field
Introducing the future of driving performance.
The next all-electric entrant to the Mercedes-Benz lineup offers an invigorating and emotional driving experience.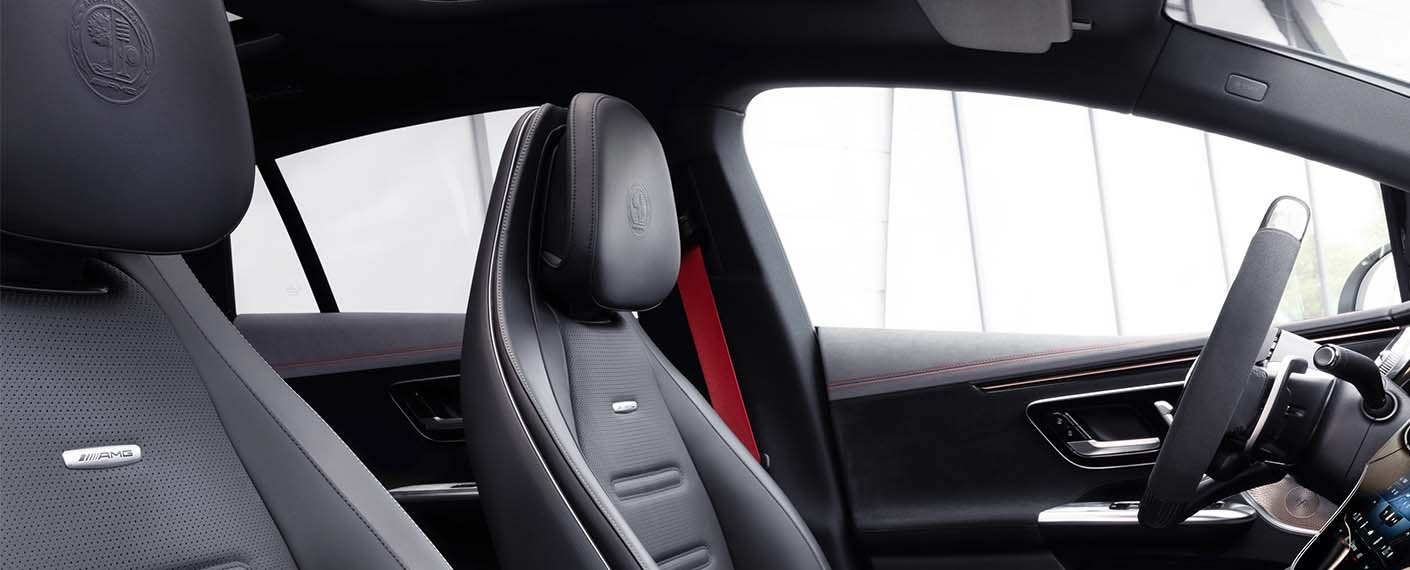 The all-new AMG EQE Sedan combines E-Class sophistication with electric intelligence and AMG power.

Mercedes-AMG vehicles have always thrilled with performance, and the all-electric EQE is no different. AMG-specific electric motors at the front and rear axles provide higher engine speeds and even more power, resulting in up to 677 horsepower and 738 lb-ft of torque (with the AMG DYNAMIC PLUS package). Variable all-wheel drive, rear axle steering, and AMG RIDE CONTROL+ with adaptive adjustable damping all help to translate that power to the pavement, maximizing agility and maneuverability. And to maintain the sensory experience of driving a Mercedes-AMG, we've introduced the AMG SOUND EXPERIENCE - a system of special speakers, bass actuator and sound generator that provides the trademark roar our drivers expect.

In another display of elite engineering, the AMG EQE's battery uses intelligent recuperation for energy recovery. Plus, a thermal management system promises lightning-quick charge times by heating or cooling the battery while driving. To top it off, the AMG high-performance braking system features an i-Booster brake booster which combines electric recuperation with highly efficient hydraulic braking.

The dedication to performance is translated in the exterior design which features one-bow lines and a cab-forward design. The black panel grille with chrome vertical struts and AMG lettering characterize the front view, while the side panels, rear bumper and spoiler give it a distinctly aerodynamic effect.

Inside, a sporty ambience is brought to life with AMG seats, an AMG Performance steering wheel, sport pedals, and topstitching throughout. Plus, its Electric Intelligence within the Mercedes-Benz User Experience gets you on the fastest, most convenient route - including charge stops - based on numerous factors, reacting dynamically to traffic jams or a change in driving style. All of this adds up to a driving experience that is both refreshing and exhilarating; it's one you can only get from Mercedes-AMG.

Look for the all-new AMG EQS Sedan in dealerships later this year.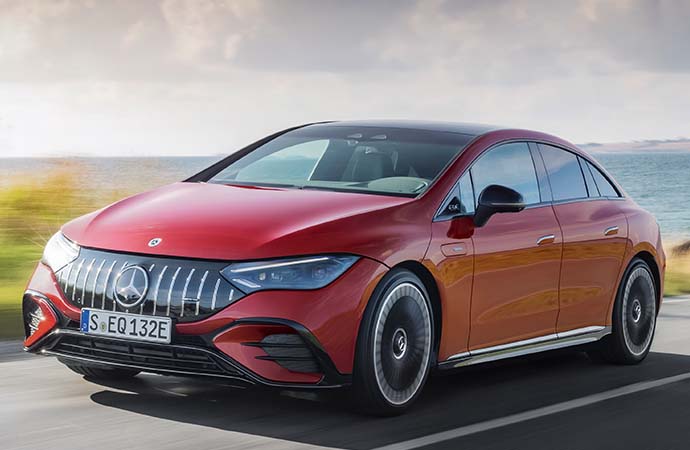 Technology & Performance
617 hp and 701 lb-ft of torque (est.)
677 hp and 738 lb-ft of torque with AMG DYNAMIC PLUS (est.)
0-60 in 3.2 seconds with AMG DYNAMIC PLUS (est.) (min. 70% state-of-charge)
137 mph top speed (149 mph with AMG DYNAMIC PLUS)[7]
AMG Performance 4MATIC+[8]
90.6 kWh battery capacity
328-volt high-performance drive battery
AMG SOUND EXPERIENCE
AMG-specific electric motors
Navigation with Electric Intelligence[9]
AMG RIDE CONTROL+ suspension with adaptive adjustable damping
Available AMG TRACK PACE MBUX app[10]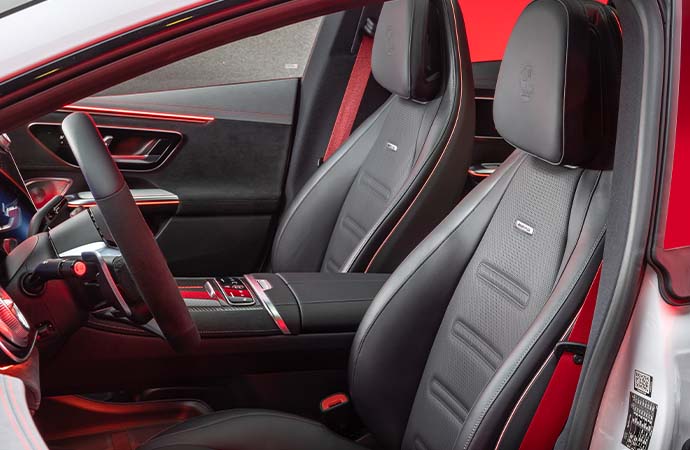 Design
AMG-specific black-panel grille
DIGITAL LIGHT headlamps
AMG A-wing front bumper with chrome trim
AMG-specific rear spoiler
AMG light-alloy wheels
AMG seats in MB-Tex with red topstitching
Available Nappa leather seats
AMG Performance steering wheel
AMG Sport pedals
Important Information
1. Vehicle may not be exactly as shown.
2. As a concept car, the designs, features, etc. are subject to change.
3. As a concept car, the designs, features, etc. are subject to change.
4. Vehicle may not be exactly as shown.
The actual purchase price of the vehicle is subject to change by the dealer and may vary based on location of the Dealer and customer, inventory levels, vehicle features and available discounts and rebates. The Online Price excludes taxes and/or fees resulting from the sale of the vehicle, including, but not limited to destination charges, labor, title, license and installation charges.
5. Customer/homeowner agreement may be required with third-party vendors for purchase and installation of home charging equipment. Home installation may require an electrical service upgrade and/or other modifications at additional cost, and may not be available or permissible at all types of homes. For further information and limitations, please visit https://www.chargepoint.com/ and https://qmerit.com/. ChargePoint and Qmerit are third parties not within the control of Mercedes-Benz USA, LLC. ChargePoint is a registered trademark of ChargePoint, Inc.
6. While the navigation system provides directional assistance, the driver must remain focused on safe driving behavior, including paying attention to traffic and street signs. The driver should utilize the system's audio cues while driving and should only consult the map or visual displays once the vehicle has been stopped in a safe place. Maps do not cover all areas or all routes within an area, may require periodic updating, and may not reflect recent or temporary changes to roadways.
7. No system, regardless of how advanced, can overcome the laws of physics or correct careless driving. Please always wear your seat belt. Performance is limited by available traction, which snow, ice and other conditions can affect. Always drive carefully, consistent with conditions. Best performance in snow is obtained with winter tires.
8. Complimentary 30-minute charging sessions are included for the first two years after account activation, exclusively on the Electrify America DC charging network. Charges may apply if the vehicle occupies the charging station for more than 30 minutes, or more than 10 minutes after reaching a full charge, whichever comes first. Charging on other networks may incur fees. Electrify America is a trademark of Electrify America LLC, which is a third party not within the control of Mercedes-Benz USA, LLC. Availability of, compatibility with, and access to the network depends on Electrify America and your location. For further information and limitations, and to learn more about where Electrify America network chargers are located, visit https://www.electrifyamerica.com/locate-charger/ or contact an authorized Mercedes-Benz dealer. Benefits are not transferable to other users or subsequent owners.
9. Some systems are optional. Even the most advanced safety systems may not be sufficient to avoid an accident. It is the driver's responsibility at all times to be attentive to traffic and road conditions, and to provide the steering, braking and other driving inputs necessary to retain control of the vehicle. Drivers are cautioned not to wait for system alerts before braking or taking evasive action, as that may not afford sufficient time and distance. See Operator's Manual for system operating speeds and additional information and warnings.
10. Optional features shown throughout